Albee™ Flame - Oxygen & Acetylene

Rental Free Cylinders for Oxygen & Acetylene
ALbee™ Flame is a brand and concept created by Air Liquide to supply rental free cylinders to the market place.
Cylinder Exchange Programme
Simply purchase an ALbee™ Flame cylinder from any approved Reseller. Then when it needs replacing just return your empty cylinder to any approved ALbee™ Reseller in the UK and exchange it by purchasing a refill cylinder. It's that easy ... no more rental and no more transaction charges.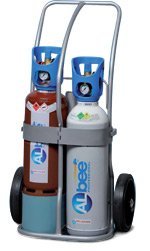 Cylinder Specification
Flame Ace
Flame O2
Cylinder size
9.6 litres
11 litres
Cylinder pressure
15 bar
200 bar
Type
Steel
Steel
Volume
1.6m3
2.3m3
Height
492mm
590mm
Diameter
180mm
178mm
Process
Consumption
Flame O2
Flame Ace
Flame O2
Flame Welding
160 lt/hr
176 lt/hr
14 hrs
Brazing
315 lt/hr
346 lt/hr
7 hrs
Flame Cutting 10mm Thick
350 lt/hr
1580 lt/hr
53 mins
Contact Us
For more information about Air Liquide UK Ltd and the services we can offer your industry contact us:
email: or